The festive events of summer 2011: from Obélix to Woodstock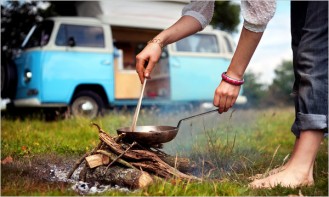 To fight against general anxiety and worrying tomorrows, some people took their inspiration this summerfrom large-scale mythic festive events.
A new optimism is emerging on the idealized beatnik model. Peoplewant to get together and experiment with a form of festive and sometimes primitive anything-goes-ism. Therewere no less than 1,200 festivals this summer in France. Small-scale or gigantic, they combine music, localfood, alcoholic beverages and activities for children… the essential thing being to "be one with" as the foodsociologist Jean-Pierre Corbeau puts it. To go to these gatherings, you rent your Volkwagen Combi with itscustomized Flower Power decoration.The most adventurous among them go back to the Robinson Crusoe myth, on a collective mode: they climb intocabins in treetops and are almost completely self-sufficient with their own crops and their hunting and fishingtrophies.A large roast boar shared with friends around a campfire listening to music and going to bed in huts? In France,we're not that far from Obélix's grand banquet!Would it be time for a fantasized return to the sources? What counts today is the strength of the social link, thephysical even carnal contact with the other, with nature, with food.